Hotel Info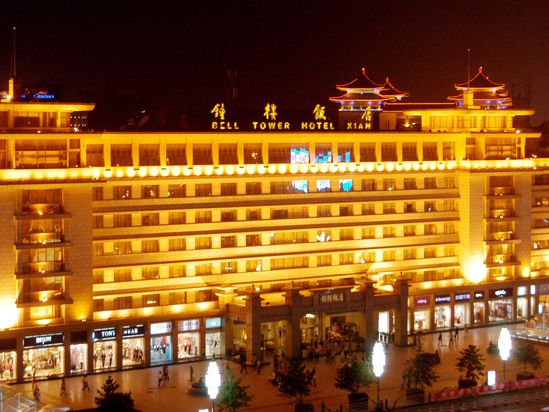 Bell Tower Hotel Xian
is located in the center of Xi'an City, with a commercial street in the East, an antique street in the south, an imitation Ming and Qing Street in the west, and Yingbin Avenue in the north; Nearby are the famous bell, Drum Tower, Ming city wall, Great Mosque, stele forest museum and famous handicraft market.
The clock tower hotel has a special geographical location due to its favorable weather and location. Public transport facilities such as buses and subways are close at hand. Passengers who come to Xi'an by plane don't need to worry. The bell tower special line of the airport bus stops in the parking lot of the hotel, so that your journey is only between a flick of a finger.
It is one of the first hotels to join the 'world Golden Key Hotel Alliance' in Xi'an. Adhering to the business tenet of 'real service, real quality', it has won the honorary titles of 'golden key service Diamond Award', 'dedicated service team cooperation Award', '5C Quality Award' and so on.
The hotel has all kinds of warm rooms, luxury rooms are equipped with independent reception area. Here, you can enjoy delicious food from all over the world. The bell tower Cafe provides you with a buffet of global food all day, and the lobby bar is a good place for you to have a rest.
The hotel also has complete banquet and conference facilities to provide high-quality conference services. With complete facilities and considerate service, it is the best choice for guests at home and abroad to stay in Xi'an.
Breakfast price
: CNY68($9.5) / person